Close
Experience the Opera
What's the story?
Out of the Ordinary/As an nGnách tells the tale of a community forced to flee their barren homeland, which, due to their own actions, can no longer sustain them. Nalva, our main character, builds a boat to take her people on an epic journey to find a new home.
But as they begin their voyage, they don't realise they are being pursued. Daol, a powerful force of nature, furious at being released from the leached soil, churns up the seas and causes a huge storm, plunging the boat underwater.
When Nalva and her people eventually resurface, they find themselves at a new and unfamiliar land. Can they make a home here? Will they learn to live in harmony with nature, or will they repeat the mistakes of the past? And will the destructive energy of Daol find peace, or will she continue to wreak havoc? It's all to play for. Why not climb aboard?
What is a VR Opera and What to Expect?
When people think of VR, a lot of the time, they think of computer games for teenagers, but VR can be for everyone! A Virtual Reality or VR Opera is an immersive experience where you put on a headset which places you inside the virtual world of the opera, rather than viewing the opera on a screen in front of you. It puts you at the centre of a 360-degree rich sensory experience. Our VR opera does not try to recreate the world around us but will bring you to an imagined world, realised through animation, creating a truly unique opera experience where you will have the ability to move around and interact with the environment. Our VR Opera will re-imagine what opera can be for a new digital age.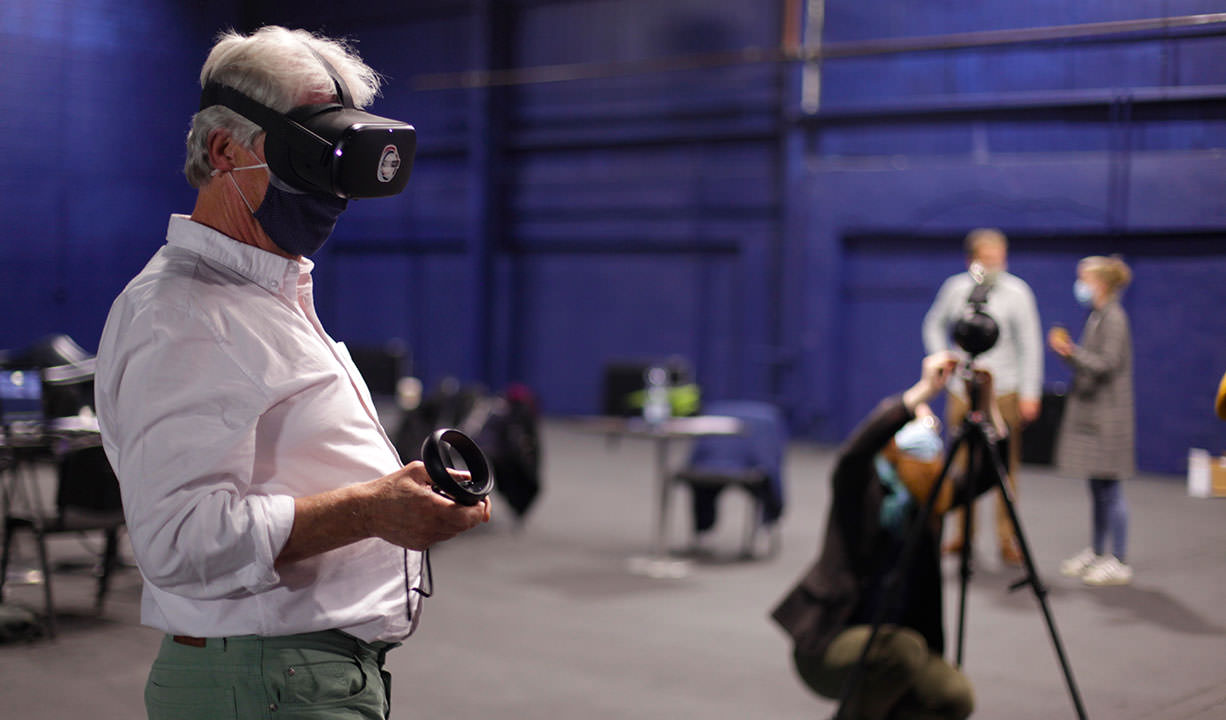 User Considerations
Due to the nature of VR, this experience will be unsuitable for audience members who:
are under 14

are pregnant

are prone to seizures, fits or epilepsy

are fitted with a pacemaker

are under the influence of drugs or alcohol

have a serious medical condition that affects their balance or vision
FAQs
The opera will be approximately 20 mins long and the complete experience will take about 30 mins from start to finish.
VR is not recommended for children under 14.
The piece is designed to be experienced standing and with some movement. There is a play area set in the headset (known as the guardian) and a blue grid appears if you are approaching the edge of this pre-set play area. There is also a seat available if you prefer.
Yes, you will have a dedicated area for your belongings for the experience
The headsets have a built-in audio strap containing headphones. The facilitator will help you with the headsets before the experience starts.
Yes, all headsets are fully sanitised by the facilitation team between showings.
The piece is designed to mitigate against VR motion sickness however some people are more susceptible to it than others. The facilitators will be monitoring your comfort throughout; however, you can lift the headset up at any point you need.