Exploring Creativity
Process
Over the last 2 years we've been blown away by the enthusiasm and creativity of the people we've met during our Out of the Ordinary / As an nGnách journey.
From online to in-person, we've engaged over 100 people in a variety of workshops, exploring everything from mask making to composition, journey mapping to storytelling. This creativity has formed the backbone of what Out of the Ordinary / As an nGnách has become.Visual art workshops run by Ceara Conway resulted in all sorts of creative output from photography to collage to mask making and more.
See a selection below created by participants from residents of Inis Meáin and students living in rural Ireland.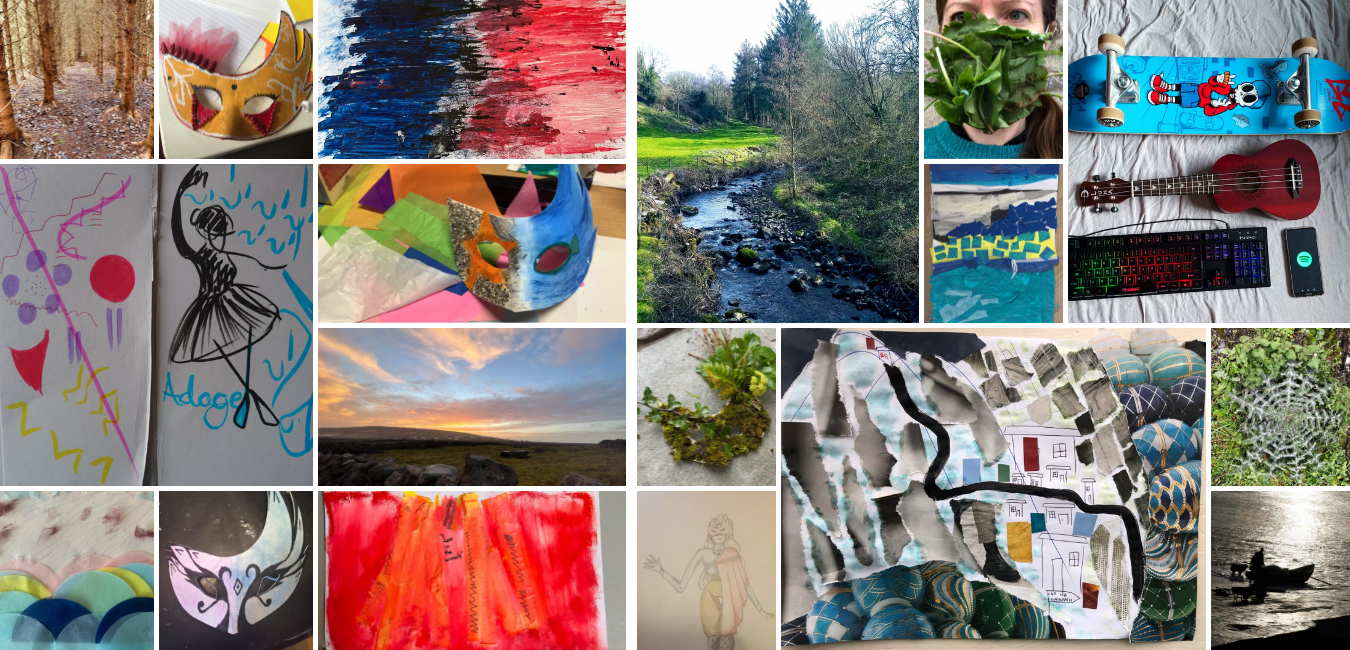 Music workshops led by Finola Merivale resulted in some extraordinary compositions from the three online groups.
Further in person work explored improvisation, with participants and professional musicians improvising around specific themes that were being explored for the story of the opera.
Writing workshops with David Lordan explored narrative, prose and poetry with a number of common themes emerging across workshops and communities. Themes of migration, climate change, love, grief and the supernatural. These themes formed the building blocks for the development of Out of the Ordinary / As an nGnách. 
Below are two poems written by participants in these workshops that reflect these common themes.
The journey  by Nessrine Zouai
Strangers and families alike are crowded on a truck, 
Whether it will drop them safely some think it's about luck, 
For one lonely fourteen-year-old boy Ismail this his chance, 
To travel to Europe and provide like a man, 
Ismail long legged for a fourteen-year-old is squeezed amongst others,
Wearing a loose hoody and jeans two sizes to big given to him from a smuggler,
No one tells him the risks he must endure, 
But going on a boat without a life vest leaves him unsure, 
Gaza and its smells and his mother's cooking come to mind, 
Maklouba, mansaf, and knaffah he eagerly thinks, 
But a loud noise on the boat makes him think they will crash,
Am I going to survive this he asks himself,  
Panic and fear take over now, 
The waves crash left and right, and endless darkness before him, 
Yalla Yalla someone shouts, 
Suddenly Ismail sees the lights, 
Crossing ashore, he feels like a man, 
The reminiscence a young boy now gone
Changes by Ruth McKenna
100's of acres of wild fields. 
Natural, unspoilt and wonderful.
Rough ground, gorse and bramble bushes
dotted around.  Hiding places for rabbits.
No fences or walls but divided by thick bushes and boreens.
We'd walk these fields and smell the smells of wet grass and foxes
And listen to nature at its best.  The high shrill of buzzards soaring overhead
And the chatter of magpies.   Cattle mooing in the distance.
Little boy racers had turned a large field into a dirt track.
Burned out cars scattered around like rusty skeletons.
Baby's clothing, toys, bags and broken bits thrown away.
I am sad now.
These fields of mine will soon be gone
Construction is destroying my favourite haunts.
What will happen to all the wildlife?
Will they move on and find new homes?
Or will they die?